This is an archived article and the information in the article may be outdated. Please look at the time stamp on the story to see when it was last updated.
PARMA, Ohio-- A woman was overcome with tears of joy as she marked two momentous occasions within minutes.
Monique and Jamaal Chavers said their marriage vows at University Hospitals Parma Medical Center Wednesday night. The Cleveland couple shared their first kiss as husband and wife, then Monique started pushing.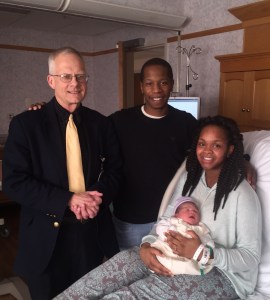 Nine minutes after the short ceremony, the Chavers welcomed baby Zuri into the world.
"Anything can happen in a hospital, and it's not always on our schedule," Rev. Wayne Decker said. "It's a privilege to serve – and to be here for the beginning of a life."
Rev. Decker was getting ready for bed when he received the call. He drove nearly an hour from Avon to Parma to perform the vows.
Both sets of parents, friends and their 3-year-old son were there to witness the special day.