This is an archived article and the information in the article may be outdated. Please look at the time stamp on the story to see when it was last updated.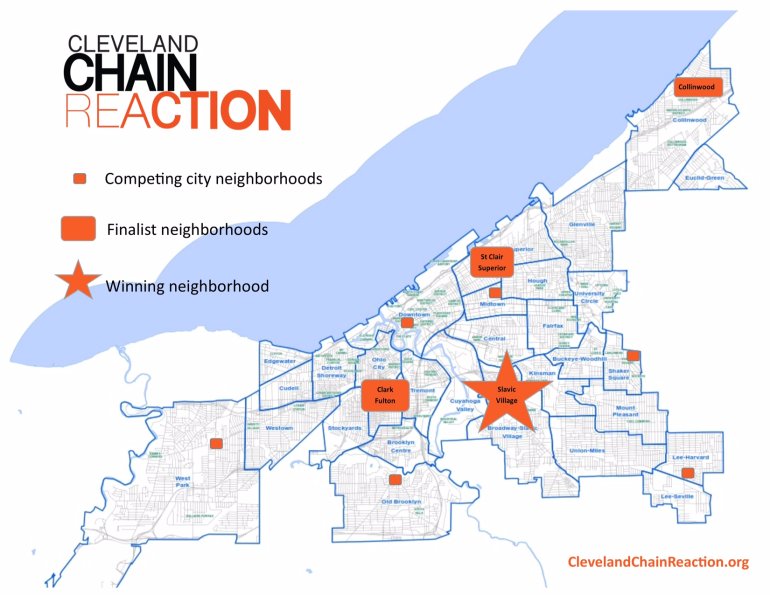 CLEVELAND, Ohio — The big day is finally here! We finally learned the winning host neighborhood for Cleveland Chain Reaction: Slavic Village!
Kenny Crumpton made the announcement at 6:55 a.m. on Fox 8 News in the Morning.
The neighborhoods in the running were:
Slavic Village/Fleet Avenue

Collinwood/East 185th

St. Clair/East 55th Superior

Clark and West 25th/ La Villa
The series was hosted by our own Kenny Crumpton. The idea is a partnership between COSE, Cleveland Neighborhood Progress, Glazen Urban, and FOX 8.
The opportunity was a concept backed by LeBron James called "Cleveland Hustles," with local business owners hustling to get their idea off the ground.
Investors with "Cleveland Chain Reaction" say this is not only an opportunity to capitalize on what they learned on "Cleveland Hustles," but it's also an opportunity to provide advice and support for small business owners.
Now that the winning neighborhood his selected, we will begin looking for local entrepreneurs to compete to become one of the five local businesses to set up shop there.
Viewer voting served as one factor in determining the winning neighborhood. The final decision was made by Chain Reaction partners and investors.
A press release states that the total economic boost to the neighborhood will likely exceed $1 million.
For the CLE Chain Reaction Facebook page, click here. 
For the Cleveland Chain Reaction website, click here.