This is an archived article and the information in the article may be outdated. Please look at the time stamp on the story to see when it was last updated.
CLEVELAND – The Cincinnati Bengals had their eyes focused on clinching their fifth consecutive postseason berth while the Cleveland Browns are finding new and creative ways to lose games. The Bengals toppled the Browns 37-3 on Sunday.
The Bengals racked up points while the Browns barely managed to score before halftime. Travis Coons made a field goal right before the clock ran out.
Things really went downhill for the Browns in the second half as the Bengals scored a few more times, but the Browns couldn't manage to get on the board even once.
The Browns will have to hope for a win next week as they take on the San Francisco 49ers.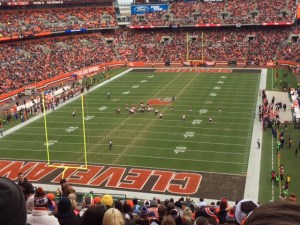 ABOUT THE BENGALS (9-2): Tyler Eifert, who is listed as questionable for Sunday's tilt, has yet to practice this week after receiving a stinger in his neck versus the Rams. The tight end torched the Browns in the previous meeting last month by reeling in three of his NFL-leading 12 touchdown receptions. Running back Jeremy Hill rolled up a season-high 86 yards last week and could improve on that total when he faces Cleveland's 31st-ranked rush defense.
ABOUT THE BROWNS (2-9): The quarterback carousel made yet another turn this week as Pettine announced that Austin Davis will be the 24th starter for the club since 1999. "He deserves this opportunity," Pettine said of the 26-year-old Davis, who gets the nod after Josh McCown broke his right collarbone on Monday while former Heisman Trophy winner Johnny Manziel tries to escape the doghouse. Davis completed 7-of-10 passes for 77 yards on Monday, with six completions in as many attempts on Cleveland's scoring drive.
More on the Cleveland Browns here