This is an archived article and the information in the article may be outdated. Please look at the time stamp on the story to see when it was last updated.
CLEVELAND– At six months old, he had his third open heart surgery. At 6 years old, he came chief of the Cleveland Division of Police.
FOX 8 News joined forces with Cleveland police, the Cleveland Office of the FBI and A Special Wish Foundation to make CJ DeJohn's dreams come true.
The kindergartner was born with hypoplastic left heart syndrome, which is a rare heart condition that effects one in 5,000 babies.
Basically, CJ has half a heart. But his heart is full of love for others and his dream is to protect people.
On Thursday, the 6-year-old was sworn in as chief of police for the day. Minutes later, The Crump committed an evil caper.
**CLICK HERE for a photo gallery**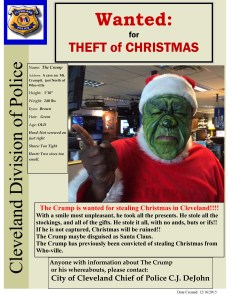 Now, it's up to Chief CJ to solve the crime, catch The Crump and save Christmas in Cleveland.
Want to help CJ? Come out Gateway Plaza at 2:15 p.m. and the Rock and Roll Hall of Fame Plaza at 3:15 p.m.
Keep up with CJ's adventure by using the hashtag #CJsavesCLE, and following us on Facebook, Twitter, Instagram and Snapchat (Username: fox8cleveland).