This is an archived article and the information in the article may be outdated. Please look at the time stamp on the story to see when it was last updated.
CLEVELAND – Talk about putting some muscle into fundraising! And it's all done as a benefit for Special Olympics Ohio.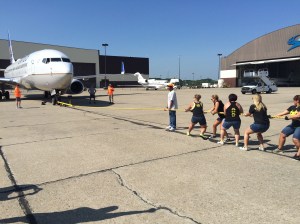 Teams of up to 20 people each gathered in the I-X Center parking lot for the 6th Annual CLE Plane Pull. The object of the competition: to see which team could pull a United Airlines Boeing 737 12 feet the fastest. That 737 weighs 150,000 pounds, by the way.
Teams were divided into four divisions: men's, women's, co-ed (team has at least eight women), and public safety (at least 10 members from the public safety sector). The fastest teams in each division got trophies as well as some major bragging rights. Each team raised at least $750 to participate.
Over the last five years, the CLE Plane Pull® has raised more than $160,000 for Special Olympics athletes.
The event runs today, July 11th, until 1 p.m. In addition to the plane pulling fun, there are also food trucks, inflatables, a photo booth, and much family fun to be found. The event is free and open to all!