This is an archived article and the information in the article may be outdated. Please look at the time stamp on the story to see when it was last updated.
AKRON, Ohio– The photo of a worker dressed in a protective suit inside a classroom at Ellet High School, with a danger sign in the foreground warning about asbestos, generated major concerns among parents and students after it was posted to Twitter on Thursday.
Posted along with that photo were others showing buckets collecting water from a leaking roof and loose ceiling tiles.
Ryan Cale is among the parents who saw the pictures and wondered if there is something about which he should be worried.
"We're parents and we don't know what's going on in there. We haven't been told by anybody; all we are hearing is from the kids, you know," said Cale.
He is not alone. The photo of the worker spread quickly on socuial media, students even sharing it with the federal EPA, to try and get some answers about whether they should be worried.
"You look up at the ceiling and there's like stains and everything," said one student, who wished to remain anonymous.
"There's water damage all over the school, like on the walls. The tiles are falling down. There's stuff dripping down the walls," said another student, who did not want to be identified.
Students said they were instructed in a general announcement on Thursday not to post any photos from inside the school on social media.  Administrators at Ellet said they asked the students not to post anything unless they knew what was happening and attached an explanation.
Rob Boxler, the Akron Public School's Environmental Safety Manager, said the main building was constructed in 1950.
He guesses the roof is about 40 years old and the ceiling tiles are all original from when the school was built.
"We have been trying to maintain and repair the roofs during good weather over the summer; this winter being particularly harsh has obviously done some severe damage to us," said Boxler.
Boxler said water making its way through the aging roof, and the plaster ceiling above the tiles, has caused some of the tiles to become loose.
The district hired a certified contractor to remove the loose tiles because the plaster ceiling above them contains two-percent asbestos, enough to be regulated.
He said the photo that created the greatest concern was of a worker following the regulatory protocol, dressed in a protective suit with breathing apparatus, after he completed the removal of tiles in a classroom.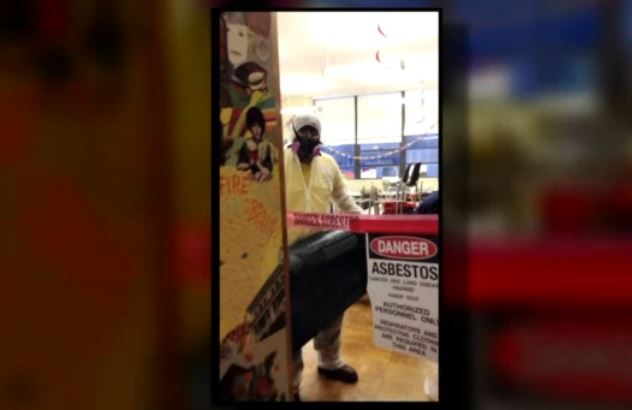 He said the work was done during after-school hours on Wednesday.
"I absolutely understand seeing a picture like that before I got into hazardous waste and management myself– those pictures, I can certainly understand being concerned about a picture like that and not having an explanation to go along with it. I can understand the concern, but the explanation is they were following protocols for safety; we follow all the protocols for safety to make sure that there is no hazard here," said Boxler.
In response to the concerns, the Akron Public School district posted a message on its website on Thursday saying in part:
"As a matter of routine, and in adherence to federal guidelines, we are using crews authorized in asbestos removal to do this work, even though this is not an asbestos removal procedure. We must, however, have workers trained in asbestos removal to remove ceiling tiles. The tiles are glued to plaster that may or may not contain small amounts of asbestos (our studies show the concentration is at 2.7%). That material, however, is undisturbed; and the environment in the school is safe and secure.
Boxler says the students and faculty in the building are in no danger."
"We would never put students or staff anybody in harm's way. That is our utmost concern. That's why we went to the level of bringing in state-licensed consultants and contractors, because we go above board to make sure everything is safe and protected. We would have not allowed people back in the building if there was any hazard in here," said Boxler.
The district is advising parents that as the temperatures warm, they expect there to be additional leaks in the roof, but plan to have them repaired as soon as the weather allows.