This is an archived article and the information in the article may be outdated. Please look at the time stamp on the story to see when it was last updated.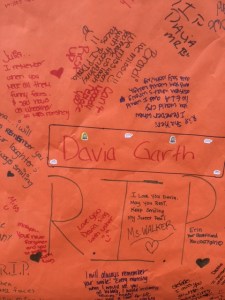 CLEVELAND, Ohio -- Friends and classmates Friday gathered outside the home of a little girl who was shot and killed the night before.
Davia Garth was just 12 years old.
Police say she was shot multiple times by her step-father at her home in the 6900 block of Clement Thursday around 7 p.m.
Garth's mother, Sonya Gray-Garth, was also shot.
It allegedly happened during a domestic dispute.
Gray-Garth told Fox 8's Peggy Gallek on Friday that she had been in the process of divorcing the suspect, who did not live with her and her daughter.
Balloons and other items were placed outside Davia's home on Friday. A vigil and rally has also been set for 5:30 p.m. Sunday outside her home.