This is an archived article and the information in the article may be outdated. Please look at the time stamp on the story to see when it was last updated.
CLEVELAND – The City of Cleveland Wednesday announced new restrictions that will be in effect downtown during the Republican National Convention, including a route for demonstrations, park use and a "speaker's platform" on Public Square.
The city's Board of Control approved the proposed regulations during its morning meeting. In a press conference, Mayor Frank Jackson said the measures were necessary.
"It is an attempt to balance between safety, security and constitutional rights of people and ensure we have a successful convention here in Cleveland," Jackson said.
The restrictions will be in effect within an event zone which encompasses all of downtown, bordered by West 25th Street, the Lorain-Carnegie Bridge and Innerbelt. The event zone will contain a smaller secure zone, which has yet to be announced by the U.S. Secret Service.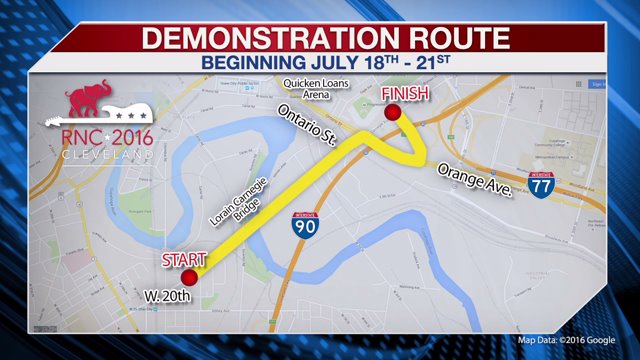 "We want to get it out as early as possible so people will know what it will look like," said U.S. Secret Service Assistant Special Agent in Charge Ronald L. Rowe, Jr. said. "We will do this in a coordinated roll out prior to the event, weeks before the event will commence."
Cleveland unveiled a designated parade route for protestors and demonstrators the week of the RNC. Groups can apply for a permit to march a 1.5 mile stretch starting on the western end of the Lorain-Carnegie Bridge, turning onto Ontario Street, proceeding onto Orange Avenue and East 9th Street before ending.
The city will contact groups that already applied for parade permits elsewhere during the RNC, according to Cleveland Chief Corporate Counsel Richard Horvath. The application for the new route will be available online Tuesday and permits issued first come, first served, he said.
Organize Ohio had filed for a permit for up to 5,000 people to participate in its "End Poverty Now!" march.
"Everybody should have the right to have their free speech and have their voices heard, and I think what's come forth today is going to be limiting that," Organize Ohio Executive Director Larry Bresler said.
The marches can only take place during restricted hours, between 2 p.m. and 4 p.m. on July 18th and between 9 a.m. and 1 p.m. from July 19th to 21st. Permits will be issued in 1 hour increments, and parades must be complete in 50 minutes, city officials said. Bresler said he's concerned about the restrictions.
"If we have a march like ours that could have 5,000 people, people hardly get started in 55 minutes," Bresler said, adding that his organization is looking into legal action.
The designated parade route and permits are only required for those wishing to march in a street. Demonstrations on sidewalks will be permitted, as long as they're not in the secure zone, Horvath said. He said applications for marches in city neighborhoods will be reviewed but are unlikely to be approved due to security demands downtown.
Willard Park and Perk Plaza will be available to those wanting to put in "installations," such as public art or tables, which will require a permit.
"All other public parks will be open to public on first come, first served basis," Horvath said.
There will be a speaker's platform on Public Square, available to those who have registered.
Food trucks will be given new routes during the convention and street vendors limited to three locations, including the Warehouse District.
There is also a long list of items banned on the streets in the event zone.
RNC Official Event Zone Permit Regulations