This is an archived article and the information in the article may be outdated. Please look at the time stamp on the story to see when it was last updated.
WASHINGTON, D.C. — Cleveland city leaders were in the nation's capitol Monday in a move to bring thousands of people and millions of dollars to Northeast Ohio.
A presentation was planned, although it will take place slightly later than originally scheduled due to weather.
The goal is to bring the Republican National Convention to Cleveland in 2016 just ahead of the next presidential election.
Mayor Frank Jackson, the head of Positively Cleveland and several Northeast Ohio CEOs are planning to be in Washington for the presentation.
Winning the convention could bring in millions of dollars to Cleveland's economy.
Cleveland is officially on  the short list, one of eight cities vying for the convention.
The RNC site selection committee will be considering Cleveland, Cincinnati, Columbus, Denver, Dallas, Kansas City, Las Vegas and Phoenix.
Presentations from Dallas and Las Vegas were postponed due to weather.  They were rescheduled for March 21.
Cincinnati also had to be rescheduled due to weather, but another date was not set.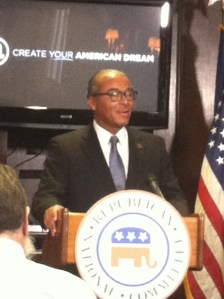 After delivering his bid behind closed doors, Columbus Mayor Michael Coleman said although he feels his city is best suited to host the RNC, Cleveland and Cincinnati are both great cities.
He said if any Ohio city is named the host it will be a win for the state.
Coleman also said Columbus routinely deals with crowds of about 200,000 people for Ohio State University football games so the city is prepared to deal with whatever the RNC might bring.
Cleveland has come close before as a finalist for the Republican National Convention in 2008 and for the Democrats in 2012.
Could the third time be a charm?
Millions of dollars in economic revenue are at stake, but David Gilbert, president of Positively Cleveland, one of thirty organizations involved in the bidding process, said the city is ready to battle.
Cleveland has shown its potential as a host city.  The Senior Games have been held here and the Gay Games are this summer.
With the addition of our new convention center, the Horseshoe Casino and other attractions, the Cleveland team in Washington has a lot of ammunition to convince the committee to allow us the chance to host the 2016 Republican National Convention.
FOX 8's Kevin Freeman is in Washington, D.C. and will have live reports about what happens throughout the day.
Stay tuned to Fox 8 News and FOX8.com for details.