This is an archived article and the information in the article may be outdated. Please look at the time stamp on the story to see when it was last updated.
CLEVELAND-- The Cleveland Board of Control voted on Wednesday to change the rules for those protesting during the Republican National Convention in July.
The American Civil Liberties Union filed a lawsuit, saying the city's existing regulations unconstitutionally limited the freedom of speech and assembly. The group took its case to a federal judge, who ruled in the ACLU's favor.
"This agreement prevents the 2016 RNC from being defined by an unnecessary conflict between freedom and security," said Christine Link, executive director for the ACLU of Ohio, in a news release on Wednesday. "The RNC offers a unique stage to groups from all sides of the political spectrum to lift their voices to a national audience. The new rules ensures that people have meaningful opportunities to express themselves on some of our most important national issues."
The board of control changed the route for the so-called protest parades. According to the ACLU, this will make demonstrators more visible.
Below is the new protest route: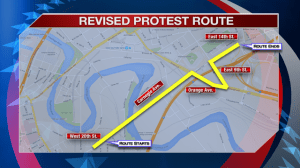 Groups can apply for a permit to demonstrate on Monday between 2 p.m. and 4 p.m., and Tuesday and Thursday between 8:30 a.m. to 1:30 p.m.
Approved demonstrators will have 50 minutes to walk the route.
More Republican National Convention stories here