This is an archived article and the information in the article may be outdated. Please look at the time stamp on the story to see when it was last updated.
NEW YORK– Cissy Houston, who is Whitney Houston's mother and Bobbi Kristina Brown's grandmother, broke her silence Wednesday on her granddaughter's condition.
Houston went on a WBLS FM show in New York called 'Middays With Shaila.'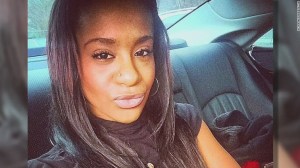 When Shaila asked how Bobbi Kristina was doing, Houston answered, "She's the same. We've moved her now to a place for rehabilitation, you know, still not a great deal of hope. We're praying. I don't pray like that; I give it to God one time, 'cause I know he's able. And I can not change a thing." She went on to say, "If he works a miracle, thank God; if it happens the other way, I'm all right."
Bobbi Kristina was found unresponsive in a bathtub on January 31 at her home in Roswell, Georgia. She remained hospitalized and was recently moved to a rehab facility, after doctors placed her in a medically-induced coma. Police have said they are treating her case as a criminal investigation.