This is an archived article and the information in the article may be outdated. Please look at the time stamp on the story to see when it was last updated.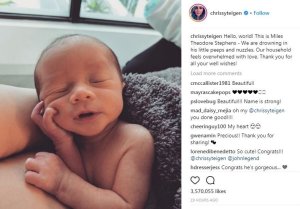 The world has finally gotten a glimpse of a new Legend.
Chrissy Teigen shared a photo of her and John Legend's new son Sunday on social media.
"Hello, world! This is Miles Theodore Stephens – We are drowning in his little peeps and nuzzles," Teigen wrote in the caption of a picture showing the baby sleeping. "Our household feels overwhelmed with love. Thank you for all your well wishes!"
Teigen had days earlier tweeted a hint that she had delivered the new baby, who joins big sister Luna, born to the couple in April 2016.
Being postpartum hasn't stopped Teigen's savage trolling skills on Twitter.
She teased Legend about attending Sunday night's Billboard Music Awards.
"Wow didn't u just have a baby John smh go take care of it !!!!!!," Teigen tweeted, along with a pic showing Legend on the red carpet. "Disgusting."
She also tweeted to remind Legend, whose legal name is John Stephens, that he needed to be home by 9 p.m. as it was "shortrib night" in their home.
Legend played along, tweeting "Did somebody say short ribs?" with a video of himself saying he was already at the airport and would be home for dinner by 8.
"Hommmme," Legend later tweeted along with a video showing said short ribs simmering on the stove.
"This is why I rushed home," Legend said in the video. "Oh yeah."
Legend is originally from Springfield, Ohio.