This is an archived article and the information in the article may be outdated. Please look at the time stamp on the story to see when it was last updated.
CLEVELAND, Ohio -- A voice for the four-foots; a legendary weatherman; creator of the Woollybear Festival.  And, that's only the beginning.
You have welcomed Dick Goddard into your living rooms for more than 5 decades, but now, he's retiring.
Back in May, Goddard announced he was going to "step away from the weather maps," so he could focus 100% on animal advocacy.
Mr. Goddard's career has extended over 55 years, and over that time, he has been extremely busy off the air, too.
He was a statistician for Cleveland Browns radio for 40 years.
In the 1970s, he started the largest outdoor event in Ohio: the Woollybear Festival, which draws 100,000 people each year.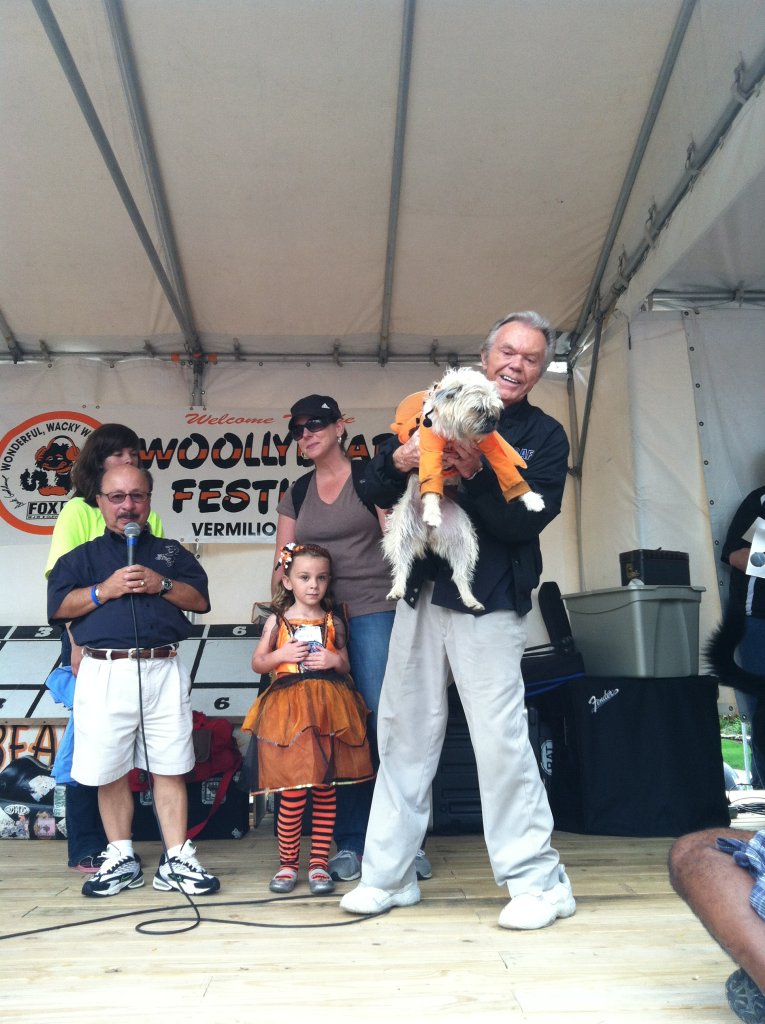 And, above them all: his never-ending love for animals. Goddard has fought for the four-foots, so much so, that a law was named after him: Goddard's Law. It went into effect in September, and makes it a fifth degree felony to knowingly cause serious physical harm to a companion animal. This includes depriving a pet of food, water or shelter or inflicting long-term pain. Protecting pets is a battle Goddard will continue to fight.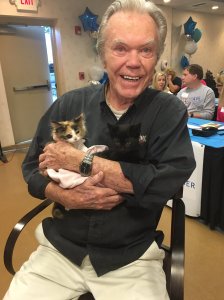 Now, today-- decades after he first appeared on-air-- Goddard will give his final forecast.
Join us for many surprises including special guests, awards, and so many memories.
That's all today on FOX 8 News at 6 p.m. and here on FOX8.com.
**Share your memory with Dick Goddard, here; check out other people's memories below**
**Read much more on Dick Goddard, here; watch more on Goddard's career in the video above**
Picture of Dick Goddard with his daughter in Medina Buehlers Forest Meadows promoting his weather book for kids. Jodi Robbins

Dick Goddard taken at the Woollybear Festival singing with "A Great Bunch of Guys" (The guys are also part of the Tower City West Barbershop Chorus). ( photo courtesy FOX 8 viewer Denise Scaglione

Garfield hts dog show

Maybe. 2005 Garfield hts homedays

My Granddaughter Alea, my sister Tina and Dick Goddard at IX Center Christmas Connection -not sure what year, maybe 2012?

I've loved Dick Goddard since I was a little girl. I finally was able to meet him at the Hartville Flea Market in 2011. I was so excited...then when it was my turn I was so star struck I couldn't say two words to him! My husband had to prompt me!

I grew up watching him and was so excited to randomly run into him in Hartville. It also snowed that day which was awesome.

Goddard with Press Club President Ed Byers and with Tim Taylor at GhoulardiFest, 2013

New Philadelphia Memorial Day Weekend 2015

This was taken at Strazenburger Collage

3 generations .... Me, my mom and daughter with the wonderful Dick Goddard...we will miss you!

Twins meet Dick Goddard and got his autograph !!

Met Dick Goddard at the Great American Rib Cook Off!

Met Mr Goddard at the Medina County Cat show this past year :)

Lexi Zvosecz, 2013 Lorain International Queen, happily greets Mr. Goddard at the Vermillion Woollybear Festival.

Marc's Rib Cookoff 5/24/14 Dick & Renee share a birthday and she has always been a Huge fan!

We met Mr. Goddard just a few months after my grandmother passed away in 2010, he was her favorite, it was bittersweet for me. Best of Luck, you will be missed on Fox 8 :)

2012 when i finally got to meet the man I look up too and got me to love weather

Pet Expo at Hardwick Park

Pet Expo Akron

Drug Mart meet and greet

Dover, Ohio

Our newly renovated and log sided home with the fall leaves in the background gave it an awesome photo of our beautiful fall season here in NE Ohio

Cuyahoga county fairgrounds Octoberfest

Was happy to meet with and chat with, most recently, in 2014 at the GhoulardiFest event on the west side of Cleveland. Dick Goddard, you are tops in my book, there will never be another! God Bless!

Live on Stuff A Bus

The day that the House and Senate passed Goddard's Law

Me meeting Dick Goddard 5 years ago at the Learned Owl Bookstore in Hudson during his book signing.

In 1998 Dick Goddard was attacked by the sultry Kapoosta Queen in the FOX 8 newsroom. Mr. Goddard remained unflappable.

This was our Christmas Card in 2013. As it turned out that year - nearly a Green Christmas - a slight snow cover occurred on Christmas Eve - validating it. Such was the influence Mr. Goddard wielded. Thanks for everything !

This photo was taken as a gift for my mom (a longtime Dick Goddard fan) at Hartville Marketplace in November 2014. To get this shot, we had to wait for a break in the action of the Ohio State Buckeyes game that Mr. Goddard was intently following on tv. :)