This is an archived article and the information in the article may be outdated. Please look at the time stamp on the story to see when it was last updated.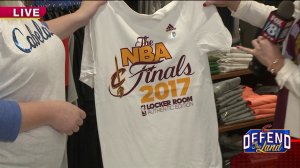 CLEVELAND, Ohio -- The third trip to the finals means Cavs fans can stock up on more team gear.
Dick's Sporting Goods isn't wasting any time.
They opened earlier than normal Friday morning.
Many locations opened at 6 a.m. Those hours apply to the following locations:
-Great Northern Mall, North Olmsted
-Crocker Park, Westlake
-Legacy Village, Lyndhurst
-Strongsville
-Bainbridge Shopping Center, Aurora
-Midway Market Square, Elyria
-The Plaza at Chapel Hill, Akron
-Market Square at Montrose, Akron
-The Shoppes at Parma, Parma
-Great Lakes Mall, Mentor
Among the gear fans can buy are the locker room T-shirts worn by the Cavs after their win on Thursday.