This is an archived article and the information in the article may be outdated. Please look at the time stamp on the story to see when it was last updated.
CLEVELAND– Quicken Loans Arena will be renamed the Rocket Mortgage FieldHouse, officials from the Cavaliers and the city of Cleveland announced on Tuesday.
It's part of an sponsorship extension with Quicken Loans and Rocket Mortgage.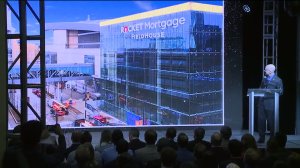 "Since 1994, Cleveland has shared countless unforgettable moments at this arena. From hosting world-class music acts to multiple NBA Finals games, the Rocket Mortgage FieldHouse has been the epicenter of entertainment in Cleveland for decades," said Cavs Chairman Dan Gilbert.
"Today marks the beginning of the next chapter in the evolution of this incredible facility, as not just one of the world's premier sports and entertainment venues, but a hub of technology that is leading the charge in innovation, efficiency and fan experience."
Construction continues on the two-year, $185 million renovation project to The Q, which including expanded public spaces and concourses, plus renovated clubs and suites. Work is expected to be complete by the start of the Cavs 2019-2020 season.
The Cavaliers' lease for the arena extends through 2034 and in 2022, it will host the NBA All-Star Game.
The Q, then called Gund Arena, opened in 1994 and is the oldest publicly-owned arena in the NBA. It's also home to the Cleveland Monsters hockey team.
More stories on the Quicken Loans Arena here