This is an archived article and the information in the article may be outdated. Please look at the time stamp on the story to see when it was last updated.
LORAIN, Ohio -- Two people were killed when a boat crashed into the detached break wall in Lorain Harbor Wednesday.
The crash happened just before 10:30 p.m., shortly after the Lorain fireworks display ended, according to Lt. Chuck Stiver, with the Ohio Department of Natural Resources.
The Lorain County coroner identified the victims as Timothy Moore, 54, and Penny Nickeson, 49.
Moore's 10-year-old grandson survived the crash with minor injuries, Stiver said.
The impact of the 20-foot powerboat hitting the steel break wall crushed the boat's bow.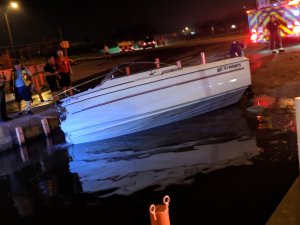 "It looked like he was just trying to go out to the lake and didn't see the break wall and plowed right into it," said boater John Crews, who witnessed the crash.
He said the boat was traveling at a high speed when it hit the wall.
"He shot past us, and I heard what sounded like another firework go off, and I looked over and he had gone straight into this darkened break wall," Crews said. He said the wall is not lit and difficult to see at night, even for boaters familiar with the area.
Crews said he and his friend, Rich Riley, who was in another nearby boat with his daughter, rushed to try to help.
Riley said they helped the surviving boy onto his boat after having him turn off the engine of the damaged boat. He said another boat with a paramedic on board also came to help before authorities arrived.
"There was a lot of shrapnel from the fiberglass that had gone into the boat so the two adults were in really bad shape," Riley said. "It was pretty intense and I hope I don't have to see anything like that again."
Moore's daughter provided a statement to FOX 8 News calling his death a tragic loss for his family.
"There are so many things I could say about my dad. He had a big heart and loved to hunt and fish with his grandson and spend time with his grandkids," wrote Heather Ball in the statement.
Stiver said the cause of the crash remained under investigation, and the accident will be reconstructed. Investigators will speak with the young survivor. He said Moore's truck and trailer were recovered from the East Side Boat Launch.
"At this point it's way too early to speculate on what caused it, and that's what we'll be working through the investigation to find out," Stiver said.
He reminded boaters to be prepared and cautious, especially at night and in unfamiliar waters.
"When they're going to be out at night, use an aide to navigation or navigation system, something that includes not only a chart plotter but also a radar system on board their vessel," he said.
Chief Kris Nyland with the United States Coast Guard said all navigational aides and lights in the area appeared to be functioning properly during an initial inspection after the crash. He said a USCG Aides to Navigation team from Buffalo was expected to visit the crash site Thursday to make sure everything was working properly.
Nyland said improving visibility at night on the break wall would be a "monumental" and costly task that may confuse boaters.
Crews said he hopes something can be done to improve visibility and prevent another crash.
"With that darkened break wall, this kind of thing is very, very possible especially for visitors to this area who are not familiar with it," he said.