This is an archived article and the information in the article may be outdated. Please look at the time stamp on the story to see when it was last updated.
CLEVELAND - According to court records, 19-year-old Javon Williams was arrested and charged with aggravated robbery in connection to the weekend shooting of a Case Western Reserve University student near campus.
Williams was arrested shortly after hiding in a ditch with another suspect who investigators say exchanged gunfire with four officers. University Circle police say a second suspect was shot by officers.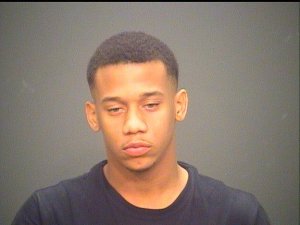 Monday, students voiced concern about their safety, especially near fraternity house Phi Delta Theta, where the student victim is a member.
"We unloaded groceries. He was just parking over here like he always does and that's ultimately when everything happened," said Austin Navarrette, the fraternity chapter president.
"As he was walking back to the house two guys ran out from the alley, demanded his keys," he continued. "After he refused, they shot him."
Fraternity members, due to family wishes, were asked not to identify the victim. They say he is a pre-med student and a native of Pittsburgh.
The shooting, just before 8 p.m. Saturday on Murray Hill Road, remains alarming to students who frequent the area.
"It is pretty scary because I don't have a car," said student Nkemji Nweke. "I'm not from Cleveland. I'm just a student here so I walk quite a lot especially at night."
Others say precautions established specifically for students' safety like the transportation service "Safe Ride" is not dependable.
"There aren't enough of them; the wait time is really long," said student Grace Howard about the service. "They'll tell you 15 minutes but it takes like an hour."
Navarrette says his fraternity is continuing discussions about campus safety with university officials.
"The area our brother was shot in is just very poorly lit and there's only one or so cameras on our house right there and there's no way we could have used anything to see it," said Navarrette.
A university spokesperson released the following statement:
"The safety of our campus community is Case Western Reserve University's top priority. The university added police patrols Saturday night and they will remain in place until further notice. We are working internally and with organizational partners to address concerns raised this weekend regarding staffing and deployment, Safe Ride transportation and lighting, and will provide additional updates as information becomes available."