This is an archived article and the information in the article may be outdated. Please look at the time stamp on the story to see when it was last updated.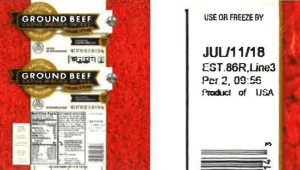 A nationwide recall has been issued for 132,606 pounds of ground beef products made by Cargill Meat Solutions after one death and several illnesses.
According to the recall, the meat was made from the chuck portion of a carcass that may be contaminated with E. coli. The beef items were produced and packaged on June 21. They were shipped to retail locations nationwide.
The Centers for Disease Control and Prevention and other health officials determined the raw ground beef was the probably cause for 17 illnesses and one death.
The USDA's Food and Safety Inspection Service is concerned some of the product may be frozen and in some consumers' freezers. Anyone who may have purchased the products is urged not to consume them and instead throw them away or return them to the place of purchase.
Click here for a list of products subject to the recall.
Click here to view the labels and other information.