This is an archived article and the information in the article may be outdated. Please look at the time stamp on the story to see when it was last updated.
CONNEAUT, Ohio — Authorities say the man wanted in connection with the rape and murder of a 13-month-old Conneaut girl hid in the woods and hitchhiked before he was captured in Pennsylvania.
Joshua Gurto, 37, was taken into custody after he was spotted at a gas station near Pittsburgh Thursday.
KDKA-TV reports Joshua Gurto was captured in Pittsburgh's Franklin Park section around 1:30 a.m. Friday and was taken to the Allegheny County Jail.
Gurto has been missing since earlier this month.
Authorities at a press conference Friday said he was found with maps of Pennsylvania. They believe he'd been hiding in woods before being picked up by the driver of a pick-up truck in Girard. Police say the truck driver didn't know that Gurto was wanted.
The truck driver's vehicle broke down about 20 miles north of Sewickley. Gurto was later arrested.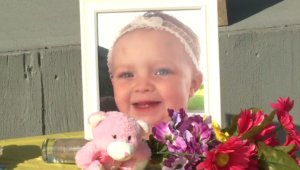 Sereniti Jazzlynn-Sky Blankenship-Sutley, 13 months, died after being found Oct. 7 with blunt force trauma to the head and trunk.
The Conneaut Law Director's Office filed charges and obtained an arrest warrant for Gurto in Sereniti's murder and rape. He is believed to be the boyfriend of the baby's mother.
Conneaut police said Friday that they have dealt with Gurto in the past, but regarding "nothing too serious."