This is an archived article and the information in the article may be outdated. Please look at the time stamp on the story to see when it was last updated.
HOUSTON, Texas - It's a story continuing to make national headlines for Canton Police Officer Ryan Davis who lost his K-9 in the line of duty.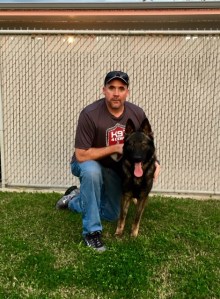 There is now a happy yet bittersweet ending to this tragedy, as Officer Ryan now has a new partner named Tuko.
Davis and Dave Blosser with Tri-State canine services spent the day at K9s4COPS in Houston, looking for his new partner, and it appears he found him.
K9s4COPS is a non-profit organization which is donating the K-9 for training; worth about $15,000.
It was earlier this month, Officer Davis' K-9 partner Jethro was killed as they investigated a burglary at a Canton grocery store.
Jethro was shot multiple times and died the next day.
Officer Davis tells our Houston affiliate, choosing a new partner has proven difficult.
"I brought another guy with me to take the emotion out of it. I'm just following his lead. There's, um, so many factors in looking for the right K-9 Mine is probably emotional based right now. So that's why I have Dave here and Jazz and Jason they've done a phenomenal job in narrowing down the field for us," said Davis.
The man arrested in the killing remains jailed on a 5-million dollar bond, charged with felonious assault and for shooting a police dog.
Davis saying Jethro will always have a special place in his heart.
"They're a part of your life. They're a family member and there's always going to be a hole with Jethro, it will never be filled. But part of life we have to move forward. I almost feel bad because it happened so quickly."
Davis says Tuko will serve the dual purpose of being a street dog and narcotics K-9.
Also, the new dog will be flying on the plane with Officer Davis and will not be put into the cargo bay.
The new partners are expected back in Canton tomorrow.
Continuing coverage of Jethro's death here