This is an archived article and the information in the article may be outdated. Please look at the time stamp on the story to see when it was last updated.
CLEVELAND -- A beloved reporter was remembered Thursday evening at a candlelight vigil.
Members of the community gathered at the Edgewater pavilion to honor Nicole Delamotte-Ullman, 30.
The Cleveland.com reporter was found dead on Monday morning in a mobile home park near Toledo. Police say she was shot three times; her uncle was shot once in the head. Police on Wednesday said they believe it was a murder-suicide.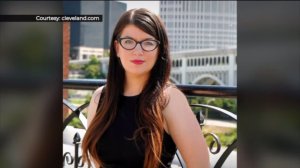 In addition to Thursday evening's vigil, Nikki's friends and loved ones are also hosting a fundraiser " to support her mother Jo (and cat Sadie), her boyfriend Bob, and her cats who she adored, Phoebe and Bailey."  The first in-person fundraiser will take place on Friday, November 16th at The Side Quest in Lakewood at 7 p.m.
They have also created a GoFundMe account. The creators of the account said all money raised from the GoFundMe will be spent first on memorial services.
Nikki made a career of celebrating the city and what it has to offer.  In addition to her work with Cleveland.com, Cleveland Scene and the Wolstein Center at Cleveland State University, Nikki wrote a book titled, "100 things to do in Cleveland before you die."