This is an archived article and the information in the article may be outdated. Please look at the time stamp on the story to see when it was last updated.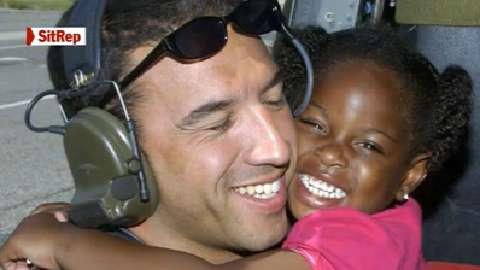 In the midst of tragedy, a small gesture forever impacted an Air Force pararescueman.
Today, 10 years after hurricane Katrina struck New Orleans, Staff Sgt. Michael Maroney, of Texas, is asking the country's help to be reunited with a little girl who left a lasting impression.
The 2005 picture above shows a little girl in pigtails and a pink shirt giving a tight hug to the former Staff Sgt.
According to the Airforce Times, Maroney was part of a rescue team that saved the girl and her family who were stranded on a flooded street.
40-year-old Maroney told ABC News, "When she wrapped me up with that hug, I just melted, and the weight of the world was lifted off my shoulders. Everything in the world just stopped, and I wasn't in New Orleans or in the devastation, I was just being hugged by a beautiful little girl."
Maroney hasn't seen her since he dropped the little girl and her family off at the Louis Armstrong New Orleans International Airport.  He had to rescue more victims stranded by Hurricane Katrina and was never able to get her name.
Maroney said he was a single parent of two young sons during that time.
After the newspaper published Maroney's story, the hashtag #FindKatrinaKid took off and the photo has been shared thousands of times across the internet.
According to 'The Airforce Times,' Maroney is now a civilian pararescue instructor at Joint Base San Antonio-Lackland.
He left active duty in August 2006 and has spent the last eight years in the Air Force Reserve.
**For more on the story click here**