This is an archived article and the information in the article may be outdated. Please look at the time stamp on the story to see when it was last updated.
CLEVELAND -- The mother of 3-year-old Emilliano Terry on Friday morning pleaded not guilty to 10 counts related to her son's death.
Charges against Camilia Terry, 20, include aggravated murder, felonious assault, child endangering, tampering with evidence and gross abuse of a corpse.
Terry's defense attorney entered the plea on her behalf. Bond was then set at $2 million.
Prosecutors say on November 25, Terry led police on a massive search for Emilliano, knowing she had placed his body in the garbage days earlier.
Terry was arrested the following day after the toddler's body was found at a waste treatment facility in Oakwood Village.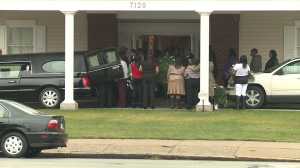 Emilliano's funeral services were also held on Friday.
"Watching my grandson's funeral, all I could do is just cry, and have some relief that now he'll be put to rest," said Cornelius Baker, the maternal grandfather.
He also spoke about Camilia Terry.
"You know, it's kind of hard.  This is my daughter, this is my blood.  I don't really know what the problem was, I'm just here to show that I do have love for her," Baker said.
A custody hearing determined Emilliano's half-brothers, a 5-year-old and a 5-month-old, will be placed with paternal relatives.
Though they will be living in separate homes, the boys will be allowed to visit each other.
A trial date has been scheduled for December 14.
*For additional coverage on the Emilliano Terry investigation, click HERE.
(Fox 8's Jessica Dabrowski and Jack Shea contributed to this report.)