This is an archived article and the information in the article may be outdated. Please look at the time stamp on the story to see when it was last updated.
ST. LOUIS, MO – If you have a Build-A-Bear Starbrights Dragon in your home, you need to take it away from your child right now.
So says the Build-A-Bear company as they have recalled over 30-thousand of the dragons. The satin seam of the stuffed animal can open, allowing the stuffing material to be exposed, which poses a choking hazard for children.
The Starbrights Dragon has blue furry fabric and a silver satin tummy, feet pads, wings and horns. The horns light up and the toy makes a musical sound when the hand is squeezed. The stuffed animal is about 17 inches high. The tracking label ending with 9333 or 9334 for USA and 9337 (or 9459 for Canada) can be found on the label sewn on the backside of the leg.   They were sold at Build-A-Bear Workshop stores and online at www.buildabear.com between April 2015 and August 2015 for about $25.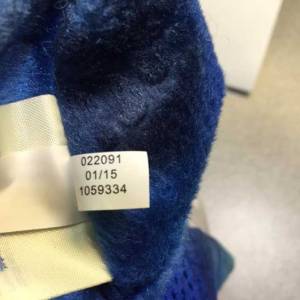 If you have one, you return it to any Build-A-Bear Workshop store to receive a coupon for any Build-A-Bear stuffed animal.
For more information on the recall, consumers can contact Build-A-Bear toll-free at 866-236-5638 from 8 a.m. to 8 p.m. CT Monday through Friday, from 9 a.m. to 6 p.m. CT on Saturday and from 10 a.m. to 7 p.m. CT on Sunday. Their email is ProductHotline@buildabear.com or consumers can go to www.buildabear.com and click on Product Recall at the bottom of the page for more information.