This is an archived article and the information in the article may be outdated. Please look at the time stamp on the story to see when it was last updated.
CLEVELAND, Ohio — Warmer temperatures are here, and that means muckleheads!
They were out in full force Monday morning, and were even captured on doppler radar overnight, moving into NE Ohio as huge swarms.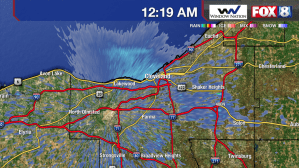 Muckleheads are insects that hatch from Lake Erie in the late spring each year and push inland.
They don't bite; they are just very visible and swarm what's in their paths.
For more on muckleheads, click here.