This is an archived article and the information in the article may be outdated. Please look at the time stamp on the story to see when it was last updated.
BEREA, Ohio– The Cleveland Browns said on Monday that Robert Griffin III will miss an extended period of time due to a shoulder injury.
After the Browns' loss to the Eagles in the first game of the season on Sunday, RG3 said he had a sprained left shoulder, but would be okay to play in the Browns home opener against the Ravens.
**Watch John Telich's take on RG3 in the video above**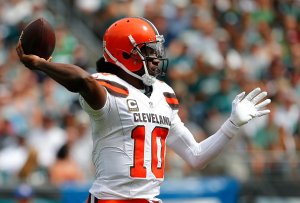 But, on Monday, the Browns said medical tests revealed a fractured bone in the quarterback's shoulder. He will miss a minimum of 8 games. No surgery is required at this time. His shoulder will be re-evaluated in 3-4 weeks.
"It's very unfortunate. Robert came in and has worked extremely hard to learn our offense and earn the respect of his teammates," Browns coach Hue Jackson said. "This is a tough loss because everyone has seen how invested he has been in this team and his dedication to the work needed to improve his craft. We all know these are the realities of the NFL, injuries occur and you have to find ways to overcome them so they don't impede your progress. Robert will do everything in his power to rehab and get healthy but Josh McCown is on this roster for a reason and we have great confidence in him. He is more than capable. His veteran presence has been an asset to our team throughout our process of preparing for the season. We look forward to him assuming the role of the starter and leading our offensive unit."
After the Browns made the announcement, RG3 tweeted, "I love this team and believe in the men on it. Keep pushing."
I love this team and believe in the men on it. Keep pushing @Browns #DawgPound

— Robert Griffin III (@RGIII) September 12, 2016
**Read more on the Browns here**
Robert Griffin III has been placed on injured reserve. pic.twitter.com/BQBPS0gWLj

— Cleveland Browns (@Browns) September 12, 2016