This is an archived article and the information in the article may be outdated. Please look at the time stamp on the story to see when it was last updated.
BROOKLYN, Ohio – A Cleveland Heights teenager was arrested Saturday after police say he was seen riding a hoverboard with a gun – that turned out to be a very realistic-looking air soft pistol – in his hand.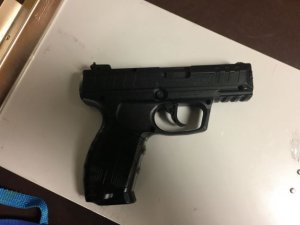 Brooklyn police received a call that a male riding a hoverboard on Roadoan Road near Orchard Avenue had a gun. The caller told police he told the male to put the gun away. The youth responded by cocking the gun and putting it in his waistband.
Police later found him, along with two girls who were seen with him, in Brooklyn Memorial Park. The gun turned out  to be a black air soft pistol.
The 14-year-old was arrested and charged with inducing panic and carrying a concealed weapon.