This is an archived article and the information in the article may be outdated. Please look at the time stamp on the story to see when it was last updated.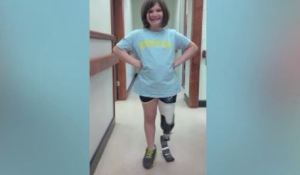 Almost one year after surviving the Boston Marathon bombing, a little girl has a new leg.
Jane Richard, 8, who lost her brother in the explosion, showed off her new prosthetic in a photo released by her family.
The Richards say her new leg is a 'Cheetah' running leg, designed for athletics and everyday use.
It's a gift from an organization called 'Wiggle Your Toes' and her team at United Prosthetics built it.
*CLICK to see another survivor's amazing story, almost one year later*