This is an archived article and the information in the article may be outdated. Please look at the time stamp on the story to see when it was last updated.
**As of Monday 12/5/16- The boil alert has been lifted. ***
Below is our original story regarding the boil advisory
CLEVELAND - The City of Cleveland Water department has issued a boil advisory for a number of eastern suburbs.
PRECAUTIONARY BOIL WATER ADVISORY: Chagrin Blvd south to Solon/Aurora Rd, Northfield Ctr east to Chagrin River: https://t.co/bhd3swSWQY

— Cleveland Water (@ClevelandWater) December 3, 2016
The area affected covers from  Chagrin Boulevard south to Aurora Road/Solon Road and Northfield Center Road east to the Chagrin River. Towns and cities in this area include parts of Moreland Hills, Woodmere, Orange, Highland Hills, Warrensville Heights, North Randall, Beachwood, Bedford Heights, Solon, and Bentleyville.
The advisory was issued after a malfunction at the Green Road storage tank. The department believes that the water is safe, but out of caution, will be conducting tests before they lift the advisory.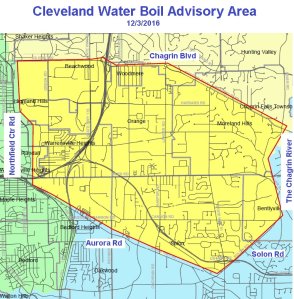 A boil advisory means that customers in these areas should bring all water used for drinking, cooking, making ice, brushing teeth, or washing dishes to a rolling boil for 1-3 minutes before using.
Water used for bathing and cleaning purposes does not need to be boiled. However, care should be taken with infants or small children that may allow some water into their mouths while bathing.
The water department will be providing updates on their Twitter feed and their blog. Fox 8 and Fox8.com will also have updates as they are released.