This is an archived article and the information in the article may be outdated. Please look at the time stamp on the story to see when it was last updated.
CLEVELAND– The electric scooter-sharing service Bird has landed in Cleveland.
The company kicked off its pilot program in Cleveland on Friday with a fleet of dock-free, low-speed scooters.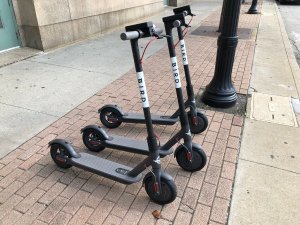 "We look forward to testing our affordable transportation option with the people and communities of Cleveland, as they recognize the need for an accessible and reliable transit system," a Bird spokesperson said.
The number of Birds could increase in the area based on demand.
The service works through the Bird smartphone app, where riders can locate scooters. Rides start at $1, plus $0.15 a minute. They got a maximum of 15 mph, last 15 miles on a charge and are only available during the day. The scooters are intended for bike lanes and streets, not sidewalks.
Users must provide a valid driver's license, and be 18 and over.
Bird already operates in more than 20 cities across the country, including Cincinnati and Columbus, Ohio.