This is an archived article and the information in the article may be outdated. Please look at the time stamp on the story to see when it was last updated.
**Warning: The photo of the goose shown below is graphic**
PITTSBURGH, Pa. — A flight from Pittsburgh to Fort Myers ended with a bang Wednesday.
Just minutes after the Southwest Airlines plane took off from Pittsburgh International Airport, it hit a goose.
The pilot was immediately forced to make an emergency landing back at the airport.
"Took off at 1:15 p.m., in the air a couple of minutes, goose hit the tail wing," said passenger Bruce McKay, of Greenville, Pa. "Big hole. Big bang."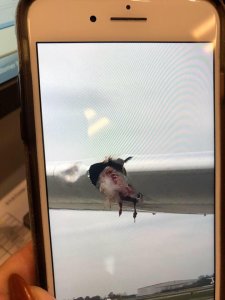 WINK News reports there were 134 passengers and six crew members on board at the time. A Southwest Airlines spokesperson told WINK the flight landed safely and without incident.
About three hours later, the passengers boarded a different plane at the airport and arrived in at Southwest Florida International Airport in Fort Myers Wednesday night.
McKay said passengers were given a $300 voucher.
[protected-iframe id="33c2372301b5ee6972435b41e96f76df-28572381-39862656″ info="https://w3.cdn.anvato.net/player/prod/v3/anvload.html?key=eyJtIjoiQU5WIiwidiI6IjQ1MzEwNDEiLCJhbnZhY2siOiJhbnZhdG9fbWNwX2Fudl93ZWJfcHJvZF83OTE0MDc0OTBmNGMxZWYyYTRiY2IyMTEwM2UwY2IxYmNiMzM1MmIzIiwic2hhcmVMaW5rIjoiaHR0cDovL3d3dy53aW5rbmV3cy5jb20vMjAxOC8xMS8xNC9wbGFuZS1lbi1yb3V0ZS10by1yc3ctaGl0cy1iaXJkLXJldHVybmVkLXRvLXBpdHRzYnVyZ2gvIiwicGx1Z2lucyI6eyJhbmFseXRpY3MiOnsicGRiIjoiODkzODg0OTIiLCJzZXJ2ZXJVUkwiOiJodHRwOi8vYW5hbHl0aWNzLXYyLmFudmF0by5jb20vVmlkZW9BbmFseXRpY3Mvc3JjL3ZpZGVvX2xvZy5waHAifSwiZGZwIjp7ImNsaWVudFNpZGUiOnsiYWRUYWdVcmwiOiJodHRwczovL3B1YmFkcy5nLmRvdWJsZWNsaWNrLm5ldC9nYW1wYWQvYWRzP3N6PTY0MHg0ODAmaXU9LzIwNTQyMzA4L1ByZV9yb2xsX3Rlc3QmaW1wbD1zJmdkZnBfcmVxPTEmZW52PXZwJm91dHB1dD12YXN0JnVudmlld2VkX3Bvc2l0aW9uX3N0YXJ0PTEmdXJsPVtyZWZlcnJlcl91cmxdJmRlc2NyaXB0aW9uX3VybD1bZGVzY3JpcHRpb25fdXJsXSZjb3JyZWxhdG9yPVt0aW1lc3RhbXBdIn19LCJyZWFsVGltZUFuYWx5dGljcyI6dHJ1ZX0sImh0bWw1Ijp0cnVlfQ%3D%3D" width="640″ height="360″ frameborder="0″ scrolling="no" webkitallowfullscreen="" mozallowfullscreen="" allowfullscreen=""]