This is an archived article and the information in the article may be outdated. Please look at the time stamp on the story to see when it was last updated.
NASHVILLE, TN -"I wish I had magic shoes. If Annabel had a magic face, she would see sparkly colors."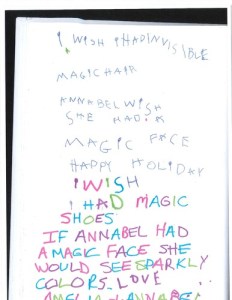 Those words come from the crayon of a 5-year-old girl named Amelia Love Pounds. Her sister, Annabel Joy, is 2. And Annabel is dying.  And Amelia wrote a story for her. And the story became a song called "I Have You Today".  And Annabel's family will have Amelia's song forever….even after they have to say good-bye to Annabel in this lifetime.
Just how does a little child process the horrors of such a devastating illness? Or the loss of a home, or cope with extremely difficult life circumstances?
How about by writing a song?
Amelia did it, thanks to a Nashville organization called Sing Me A Story.
Click here to see "Amelia's Story for Annabel Joy" and to listen to "I Have You Today."
Amelia and her family were introduced to Sing Me A Story through the staff of Alive Hospice in Nashville, Tennessee, where Annabel has been a patient for 14 months. Annabel has Tay-Sachs, which typically claims the lives of the children it affects early in their young lives.
So her big sister wrote and illustrated a story for Annabel. The folks at Sing Me A Song took Amelia's book, gave it to a songwriter and it became a song that the Pounds family will have forever…even after Annabel is no longer with them in this world. (Click here to head to Annabel's Joyful Life page to learn more about her wonderful family and their life together.)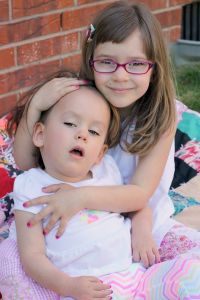 Treva Blomquist is the songwriter who wrote "I Have You Today". She's written two other songs for Sing Me A Story.
Sing Me A Song was founded by a Nashville songwriter, Austin Atteberry, who fell in love with his neighbor, Sara Doschadis, a child life specialist at a Nashville children's hospital. Sara suggested that Austin use his musical skills and  volunteer with the children at her hospital. He started writing songs with them, and he got his ideas by asking the children to "tell him a story". That's how  Sing Me a Song came to be.
The children involved with the organizations that Sing Me A Story works with can write and draw about anything they want to. The stories are then given to songwriters who turn them into songs. They record the songs and send them back to the children via the Sing Me A Story website.
Sing Me A Story then takes the songs, gives each one a partner organization,  and puts them in their "Jukebox". Anyone who wants to can listen to the songs and donate to the ones they like. The donator gets an Mp3 copy of the song, and the partner organization gets the donation. The partner organization for Amelia's song is Alive Hospice.
Click here to head to the Jukebox.
 "I am Annabel. I am loved and I make a difference. I have a disease called Tay-Sachs that will take my life prematurely, but I love the life that I have, and I am very blessed. One day when I am no longer able to breath the air here on earth, I will still be alive and well in the hearts and lives of so many people that love me very much. I have a big legacy to leave, and I am proud to be Annabel Joy Pounds."  From Annabel's song page

Please visit Annabel's Joyful Life to learn more about Annabel.