This is an archived article and the information in the article may be outdated. Please look at the time stamp on the story to see when it was last updated.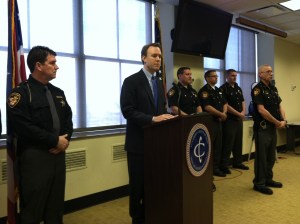 CLEVELAND — Cuyahoga County Executive Ed FitzGerald on Tuesday announced a security partnership for the 36th Annual Rite Aid Cleveland Marathon on May 19.
It's the first time in the race's history that the county has taken an active role in security plans for the race, Fox 8's Emily Valdez reports.
The news comes in the wake of the bombings at the Boston Marathon on April 15, which killed three people and injured more than 260 others.
Security will be tight this year at the Cleveland Marathon.
The Cuyahoga County Sheriff's Office is launching its Special Impact Unit for the first time since forming about a year ago.
That's in addition to about 350 independent security officers hired by the marathon, more explosive sniffing dogs, anti-terrorism specialists, and unseen security and undercover officers stationed around the course.
There's also a command center set up where the FBI and other law enforcement agencies can converse and share information.
FitzGerald made it clear that the county would not discuss all the details of the security plans for safety reasons.
More than 45,000 people — including runners and spectators — are expected at this year's race, which starts and finishes at FirstEnergy Stadium.