This is an archived article and the information in the article may be outdated. Please look at the time stamp on the story to see when it was last updated.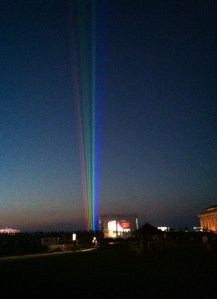 CLEVELAND  –Beams of light went up in Cleveland Thursday night ahead of the 2014 Gay Games.
It's called AHA! a festival of lights to celebrate our city.
Athletes from around the world are pouring in to the Cleveland Convention Center to get all signed up and ready for the Gay Games.
It's an event so big that it's only held once every four years, just like the Olympics.
"So this is our third Gay Games. Our first one was in Chicago; our second one was in Germany; and now we're in Cleveland," said Leah Guillermo.
She is a cheerleader for "Cheer San Francisco." Her squad is competing as well as cheering on other teams from her hometown.
Paul Shulte from Amsterdam was also picking up his credentials on Thursday. He's been in the U.S. for a couple of days and said he is really enjoying himself.
"As a matter of fact, I wanted a good excuse to go to the United States. I've never been here before and never wanted to. I don't know why, but now I'm here and I'm choosing to row and you have a wonderful river here," said Schulte.
Across from the Convention Center, crews are working on Festival Village. That's where people can go for drinks and entertainment, plus each night's medal ceremony.
Check-in will continue on Friday for the athletes. The opening ceremony will be held Saturday night at the Quicken Loans Arena downtown.
CLICK HERE for more on the 2014 Gay Games.