This is an archived article and the information in the article may be outdated. Please look at the time stamp on the story to see when it was last updated.
CLEVELAND, Ohio– From both sides of the abortion debate, to Donald Trump and Hillary Clinton supporters and their opposition, the battle of the billboards in Northeast Ohio has people talking.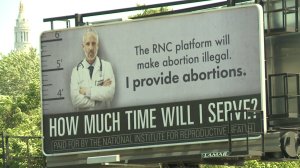 One billboard, located just across the Lorain/Carnegie bridge and paid for by the National Institute for Reproductive Health, states on its website that these billboards are strategically placed throughout the city in an attempt, they say, to educate the public about the   RNC platform's implications for women who have abortions.
Just off the shoreway heading west, another billboard, reads 'Trump '16….stay on his good side."


Along I-71, another reads, "Dear Hillary, we have your back….The Media." That one was paid for by media research center.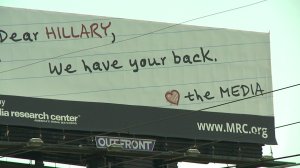 And then there's one which seems to not have a party affiliation, but created with the
RNC in mind. It reads, "Need campaign financing?" Then on the bottom in small quotations, "We're not going to live forever, so why should the earth."
Its creator, Andrew Farrington, spoke with FOX 8 via Skype, to explain his message.
Farrington said, ""It's not about Republican versus Democrat. A Republican or Democrat didn't send your jobs to China. An American businessman sent your jobs to China to make more money."
He goes on to say, ""I don't like either of my choices. I mean, why do I have to choose between a multi-millionaire and a billionaire to be the person that represents me? We need more people to go out, buy mom and pop companies and go out and run for political positions that represent the masses."
Farrington said he paid about $12,000 for the billboard which had to be approved and it will remain until the end of the July.
And he said it just happens to be located near the end of one of the reported protest routes.
We are also told Cleveland's billboard space is entirely sold out through the month of July, apparently prime locations for the thousands of people who drive past them every day.
Read more on the RNC and follow our continuing coverage.