This is an archived article and the information in the article may be outdated. Please look at the time stamp on the story to see when it was last updated.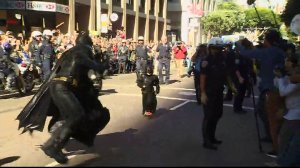 It's been about a week since San Francisco was transformed into Gotham City to let 5-year-old Miles Scott enjoy being superhero for a day.
Miles is in remission from Leukemia and was granted his wish by Make-A-Wish.
The city of San Francisco spent about $105,000 on the event, and it was broadcast in 117 countries, according to Mashable.
According to Mashable, his family is now launching a fund in his name to help others facing similar battles.
The "Batkid Fund" will benefit the Ronald McDonald House, the Make-A-Wish Foundation and the Asante Rogue Regional Medical Center.
For more on the Batkid Fund, click here.
For extended coverage on this story, click here.