This is an archived article and the information in the article may be outdated. Please look at the time stamp on the story to see when it was last updated.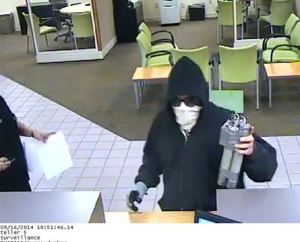 MAPLE HEIGHTS, Ohio — Police said a man walked into the Huntington Bank branch on Dunham Rd. in Maple Heights just before 7 Tuesday night, saying he had a bomb.
A surveillance image shows the man holding what looks like an explosive device.
Maple Heights police said the suspect stole money and took off in a black Chevy truck.
Bank employees called police and were able to give them a description. The suspect was pulled over near the intersection of Rockside Rd. and Lee Rd. South.
That's when police said the driver threw something out of the window; the object appeared to be an explosive device.
The suspect was taken into custody and the Southeast Area Law Enforcement Hazardous Device Unit (HDU) was called to the scene to investigate.  Police said the device was collected without incident and no one was injured. The scene is safe and all roads have reopened.
The 39-year-old suspect is being held at the Maple Heights Jail pending charges.
Anyone with more information on the incident can call the Maple Heights Police Department Detective Bureau at 216-587-9644.