This is an archived article and the information in the article may be outdated. Please look at the time stamp on the story to see when it was last updated.
BALTIMORE, Maryland– Fifteen police officers were injured during riots on Monday, Col. Darryl D. DeSousa, Baltimore Police chief of patrol, said at a news conference. Two remain hospitalized, and the others have been released, he said. Most were injured by flying debris, according to DeSousa.
Baltimore City Public Schools will be closed Tuesday, according to schools spokeswoman Edie House-Foster.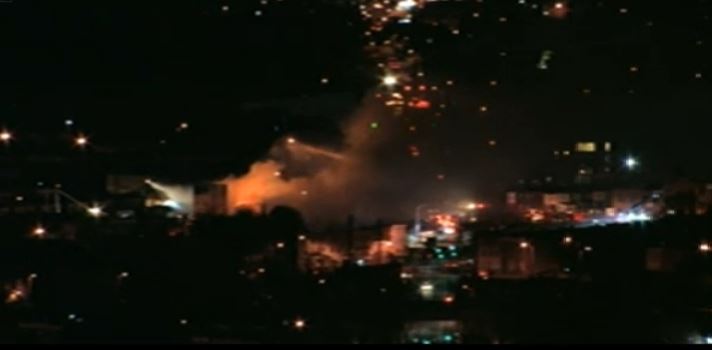 Mayor Stephanie Rawlings-Blake announced that the city will impose a mandatory curfew from 10 p.m. to 5 a.m. daily, effective for one week starting on Tuesday. She noted that the city already has a mandatory curfew for juveniles. "What we see tonight that is going on in our city is very disturbing," said Rawlings-Blake. "Too many people have spent generations building up this city for it to be destroyed by thugs who in a very senseless way are trying to tear down what so many have fought for."
The mayor said it's not clear whether an enormous fire at a senior center under construction was related to riots Monday night. She said the cause of the fire is under investigation.
Chaos and violence erupted on the streets of Baltimore late Monday as protesters clashed with police. More than two dozen people have been arrested.
Maryland Gov. Larry Hogan declared a state of emergency and activated the National Guard.
"This afternoon, a group of outrageous criminals attacked our officers. Right now, we have seven officers that have serious injuries, including broken bones, and one officer who is unconscious," Capt. Eric Kowalczyk told reporters.
He vowed to find the attackers and put them in jail.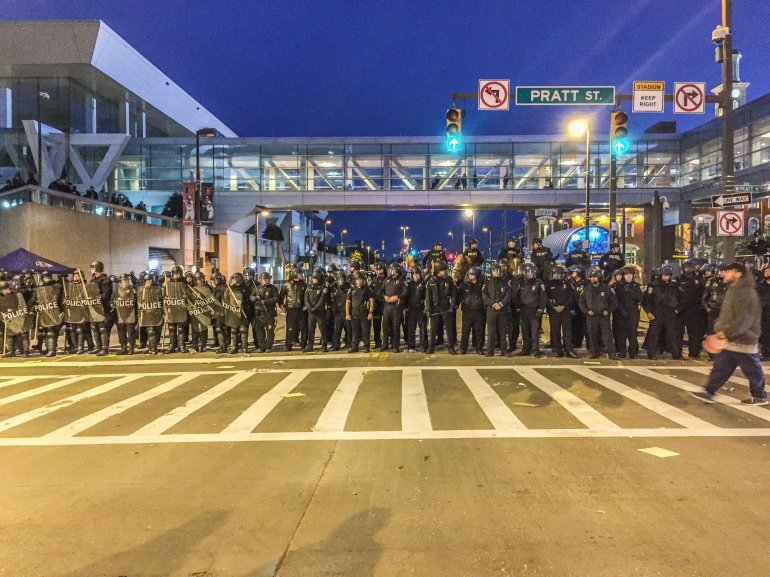 Video showed police in riot gear taking cover behind an armored vehicle, as protesters pelted them with rocks.
At one point, it looked like officers used tear gas. The Baltimore Police Department said it had heard reports of protesters setting small items on fire, and footage showed a cruiser in flames.
Video also showed people looting local stores, and an area CVS Pharmacy was set on fire after it was ransacked. Thick dark smoke filled the streets.
"This is not OK," Kowalczyk said. "You're going to see tear gas. You're going to see pepper balls. We're going to use appropriate methods to ensure that we're able to preserve the safety of that community."
There were no immediate reports of injuries among the protesters. There were also no immediate reports of arrests.
'Credible threat' to officers
Earlier in the day, the Baltimore Police Department said it had received a "credible threat" that gangs were teaming up to "take out" officers.
It did not say where the information came from, nor did it say whether the threat was tied to the recent death of Freddie Gray. Gray died in police custody under circumstances that remain unclear.
The family of Freddie Gray condemned the violence that spread across Baltimore after his funeral on Monday.
"I want y'all to get justice for my son, but don't do it like this here," his mother told journalists.
Gray's twin sister, Fredericka, also denounced the riots.
"I don't think that's for Freddie," she said. "I think the violence is wrong."
His death has sparked ongoing protests in Baltimore and raised long-simmering tensions between police and residents.
"The Baltimore Police Department/Criminal Intelligence Unit has received credible information that members of various gangs including the Black Guerilla Family, Bloods, and Crips have entered into a partnership to 'take out' law enforcement officers," police said. "This is a credible threat."
Maryland State Police have ordered an additional 40 troopers to Baltimore to join the 42 troopers already sent there Monday afternoon to assist city police. Since last Thursday, more than 280 state troopers have provided assistance in Baltimore.
"Today's looting and acts of violence in Baltimore will not be tolerated," said Gov. Hogan. "There is a significant difference between protesting and violence, and those committing these acts will be prosecuted under the fullest extent of the law."
Separately, President Barack Obama met with Attorney General Loretta Lynch at the White House, just hours after she was sworn in.
"Attorney General Lynch assured the President that she would continue to monitor events in Baltimore and that the Department of Justice stands ready to provide any assistance that might be helpful there," said a statement from the White House.
'They don't deserve this'
Monday's violence came the same day as Gray's funeral. The 25-year-old was arrested on April 12 and died one week later from a fatal spinal cord injury.
"I am sure that the family is concerned, and I am positive that they are against what is beginning to develop here in town," said Billy Murphy, an attorney for the Gray family.
"They don't deserve this any more than Freddie Gray deserved it," he said about the injured officers.
Because of the violence, the Baltimore Orioles have postponed their home game against the Chicago White Sox on Monday, the team announced via Twitter. At first, the team planned to go ahead with the game, but delayed it after further talks with the Police Department. A new date for the game will be announced later.
Over the weekend, a few protesters vandalized police cars, threw objects at officers, cursed at them and scuffled with them.
About a dozen young men smashed squad cars with garbage cans, climbed on top of them and stomped on them, CNN video showed.
"This has got to the point, this is not about Gray right now. It's reactionary," a Baltimore resident and protester said on Monday. "You can only put so much into a pressure cooker before it pop."