This is an archived article and the information in the article may be outdated. Please look at the time stamp on the story to see when it was last updated.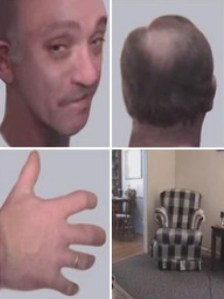 CLEVELAND — You've always heard "no tip is too small," and when it comes to protecting children from sexual predators, no clue is too small either.
Investigators are hoping a plaid chair, a ring and male pattern baldness will help identify a man known as John Doe 27.
Images of him allegedly engaged in what the FBI described as "sexually explicit activities with a child" were first recorded by the National Center for Missing and Exploited Children in April of 2013.
Those pictures are still circulating the Internet.
They have been enhanced to reveal a distinct plaid chair in the residence, a bald spot on the back of the subject's head and a ring on his right finger.
The FBI said the man seems to speak with a southern accent and may refer to himself as "Jimmy."
He was described as being white, likely between the ages of 40 and 50, with brown hair, graying sideburns, and a bald spot.
He wears glasses and a ring on the ring finger of his right hand.
There is nothing that links him to a specific part of the country, so his whereabouts are unknown.
Tips may be provided online or by calling the FBI's toll-free tip line at 1-800-CALL-FBI.