This is an archived article and the information in the article may be outdated. Please look at the time stamp on the story to see when it was last updated.
CLEVELAND, Ohio —Republican presidential candidate Donald Trump was back in Northeast Ohio for the second time this week on Thursday revealing an education platform that includes eliminating merit pay for teachers, getting rid of common core, and creating a 20 billion dollar grant that would give inner city children living in poverty the chance to attend the school of their choice.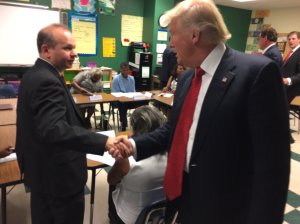 Trump spoke at the Cleveland Arts and Social Sciences Academy, a public charter school with 442 students in grades K-8.
The school says it out performs many city schools using fewer dollars and attracts students from many communities outside of Cleveland because of their academic reputation.
"I would have to say it makes sense for Mr. Trump to be here for a number of reasons, he has chosen, I would say, one of the top community schools in the greater Cleveland area," said Debroah Mays.
"We have ranked in the top 3% of schools in the state of Ohio actually for three consecutive years," said Mays.
The school fits neatly into the vision Trump has for education under his presidency.
"I will be the nations biggest cheerleader for school choice. I understand many stale old politicians will resist, got a lot of pressure on them, but it's time for our country to start thinking big and correct once again," Trump told a relatively small audience that included educators and some students.
His plan would invest $20 billion in a block grant that would give students who live in poverty the chance to attend the school of their choice.
"I want every single inner city child in America who is today trapped in a failing school to have the freedom, the civil right to attend the school of their choice, their parents will chose the finest school they will attend that school," said Trump.
He was critical of public education under the current system and of rewarding teachers based on tenure.
"These schools would then cater to the individual needs of the student and family not the needs of the teachers union which is a tremendous force, and a tremendous barrier to getting done what you want to get done," he added.
Mays said the fact that her school was hosting the republican candidate was not meant to seem like an endorsement of him.
She said the school's doors are open to anyone who wants to talk about improving education and viewed his visit as an opportunity to share what she feels is important.
More than once in his speech Trump emphasized that the policy would be a great benefit to African-American and Hispanic children in inner cities.
"A state like Ohio will benefit greatly from these new funds, Ohio is a leader in school choice, Ohio has five private school programs that serve over 30,000 students and 384 charter schools serving 123,844 students, great job," said Trump.
Read more on Donald Trump.