This is an archived article and the information in the article may be outdated. Please look at the time stamp on the story to see when it was last updated.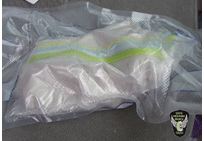 ELYRIA, Ohio– It started as a traffic stop and ended with the arrest of two Pennsylvania women, who authorities said had a lot of heroin on them.
The Ohio State Highway Patrol said they seized 390 grams of the drug, worth more than $58,000.
Troopers said they stopped the women's car for a marked lanes violation on the Ohio Turnpike in Lorain County on April 10. They said criminal indicators were observed and a search revealed the heroin.
Arrested were Bernadette McClain, 36, and Chelsea Page, 23.
They were charged with possession of heroin and were being held in the Lorain County Jail.