This is an archived article and the information in the article may be outdated. Please look at the time stamp on the story to see when it was last updated.
CLEVELAND, Ohio — The FBI held a news conference Thursday morning with Cleveland and Elyria police for updates on recent abduction cases.
A 6-year-old girl was taken from her home in the 3000 block of West 104th Street early in the morning on May 21. She was found safe around 9:30 p.m. that day after being held for more than 17 hours.
Authorities say the suspect in the girl's abduction was positively linked to an attempted abduction in Elyria on Feb. 25.
In that incident, agents say the suspect tried to pull a 10-year-old girl through her bedroom window. The victim was able to get away and woke her father, who called police.
Stephen Anthony, special agent in charge of the Cleveland FBI, said authorities across NE Ohio are working together to determine if the suspect in both cases has been involved in any other crimes, including abductions and attempted abductions.
"This is a serial child abductor," said Anthony. "He is our prime suspect. He is still out there, and we as a community must apprehend him."
Cleveland Commander James McPike emphasized that the suspect is not afraid to enter homes where there are adults present and take a sleeping child from her bed.
He pointed out that the two known victims live 35 miles apart.
"This is a stranger who stalks his victims, waiting for an opportunity to kidnap them," said McPike. "He is dangerous."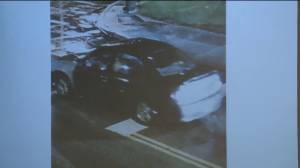 Police previously released a sketch of the person of interest in the cases, along with surveillance video and photos.
Thursday, they shared another photo of the vehicle involved in the girl's abduction and emphasized that anyone who may recognize it should call authorities.
Community activist Yvonne Pointer also pleaded with the public to call with any information.
"If we know something, it is our obligation…to say something," she said. "Who's to say what he will do next? This person is dangerous, he is a threat to our children, and it is up to us to get him off our street."
There is a $20,000 reward for arrests in the case.
To contact authorities, call 216-622-6842.