This is an archived article and the information in the article may be outdated. Please look at the time stamp on the story to see when it was last updated.
ASHLAND, OH — Ashland University is making higher education more affordable for its students.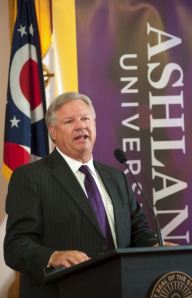 In what AU President Dr. Fred Finks calls a "bold step," the university cut its tuition cost more than $10,000 for the 2014-2015 academic year.
The price adjustment will apply to full-time undergraduate students enrolled in 2014-2015. The new price represents a 37 percent decrease from the projected tuition of $30,064 to $18,908.
Finks insists that nothing will be cut from Ashland's education to accommodate the new tuition price, however, it will mean that Ashland will reduce, but not eliminate, the dollar amounts for scholarships.
Finks said that many prospective students turn away from Ashland because of "sticker shock," but with the tuition adjustment, he expects to see a continuing increase in enrollment.