This is an archived article and the information in the article may be outdated. Please look at the time stamp on the story to see when it was last updated.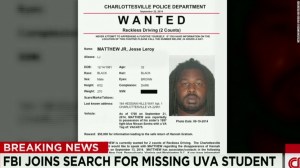 (CNN) — Authorities have obtained an arrest warrant for Jesse Matthew, charging him with abduction with the intent to defile, in the case of missing University of Virginia student Hannah Graham, Charlottesville Police Chief Timothy Longo told reporters Tuesday.
Police believe Matthew was the last person with Graham, 18, before her disappearance. She was last seen September 13 in an area of Charlottesville known as the downtown mall.
The Charlottesville Police Department is circulating a wanted poster for the 32-year-old Matthew, who is also wanted for two counts of reckless driving.
*Follow the latest information from our sister station, WTVR*
He is described as an African-American man, standing 6 feet, 2 inches tall, and weighing 270 pounds. He is known to have contacts in Maryland, New York, Pennsylvania, Virginia and Washington, D.C.
Longo declined to provide additional details on the case.
"Between now and the time that this matter goes to trial, we need to be very sensitive about the information that we share," he said.
However, the police chief stressed: "We absolutely are continuing our search for Hannah."
Authorities are offering a $50,000 reward for information leading to Graham's safe return.