This is an archived article and the information in the article may be outdated. Please look at the time stamp on the story to see when it was last updated.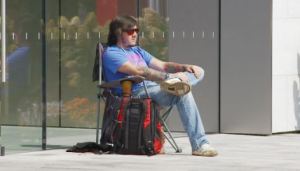 WOODMERE, OH — As Apple fans anticipate the release of the new iPhone 5s and iPhone 5c, one die-hard fan was already in line Thursday afternoon.
Josh Eads, 28, of Garfield was the first in line at 8:00 a.m. outside the Apple Store on Chagrin Boulevard.
Eads has his heart set on the iPhone 5s in silver and said he is excited about the new fingerprint scanner.
He said he was also surprised he was the only one in line.
"I was actually pretty surprised. I figured I would either be the first or the tenth in line," said Eads. "But I'm first and last in line right now, so I'm kind of surprised. But I think, after people get off work or get out of school, they'll start lining up."
Eads said this is the first time he has ever waited in line for a phone. His wife stopped by every now and then to bring him food.
The Apple store will open at 8:00 a.m. Friday to sell the new iPhones.