This is an archived article and the information in the article may be outdated. Please look at the time stamp on the story to see when it was last updated.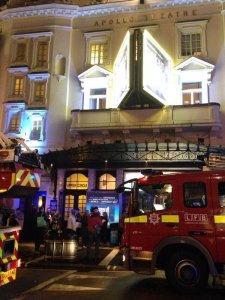 (CNN) –Roughly 80 walking wounded and seven people more seriously injured have been treated following a ceiling collapse at London's Apollo Theatre, London fire and ambulance officials said.
Around 720 people were in the theater at the time of the collapse, which "took parts of the balconies down with it," the London Fire Brigade said in a press release.
Police responded to a report of a ceiling collapse at about 8:15 p.m., the police said.
The Press Association said witnesses saw people emerging from the building covered in dust.
The theater's website said "The Curious Incident of the Dog in the Night-Time" had been playing," which it described as "a thrilling new stage play from the National Theatre."
Ticket prices at the theater, which opened its doors in 1901 and whose 775 seats are arrayed on four levels, included a 1 pound "theatre restoration levy," the website said.
It is owned and operated by Nimax Theatres.
Stay with FOX 8 News and FOX8.com for new details.