This is an archived article and the information in the article may be outdated. Please look at the time stamp on the story to see when it was last updated.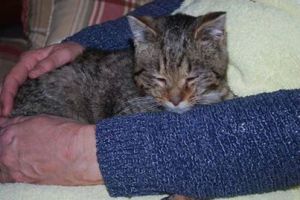 ELYRIA, Ohio — A kitten found frozen to the ground in Elyria is now resting and getting better by the minute.
Monday morning, a woman found Frosty the kitten covered in snow and ice near the corner of Route 57 and Griswold Road.
She took the cat to the Friendship APL.
Frosty has an upper respiratory infection and an eye infection.
Since, his foster mom, Nancy, has been nursing him back to health.
The APL said on Facebook Wednesday that Frosty is doing well and resting.
For much more on this story, click here.