This is an archived article and the information in the article may be outdated. Please look at the time stamp on the story to see when it was last updated.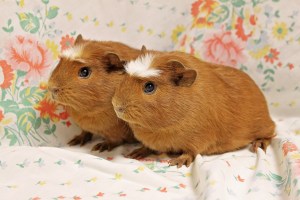 MENTOR, Ohio- After more than a thousand small animals were seized from a Wayne County pet store, some of the critters are up for adoption.
The Wayne County Sheriff's Office searched Critters Pet Shop, which was run out of a four-car garage in Smithville, in January. They seized about 1,060 guinea pigs, rabbits and mice from deplorable conditions. Deputies said many of the cages were filled with feces and dead animals.
While the Wayne County Humane Society took in most of the little animals, eight guinea pigs were handed over to the Lake Humane Society. Most of them were pregnant and after weeks of waiting, they have 17 baby guinea pigs.
The 1 month olds will be available for adoption on Sunday. The Lake Humane Society is offering reduced fees. For more information, go to www.lakehumane.org or call 440-951-6122.
The photos below were taken shortly after the pets were seized.
(Photo courtesy Wayne County Humane Society)

(Photo courtesy Wayne County Humane Society)

(Photo courtesy Wayne County Humane Society)

(Photo courtesy Wayne County Humane Society)

(Photo courtesy Wayne County Humane Society)

(Photo courtesy Wayne County Humane Society)

(Photo courtesy Wayne County Humane Society)

(Photo courtesy Wayne County Humane Society)

(Photo courtesy Wayne County Humane Society)

(Photo courtesy Wayne County Humane Society)

(Photo courtesy Wayne County Humane Society)

(Photo courtesy Wayne County Humane Society)

(Photo courtesy Wayne County Humane Society)

(Photo courtesy Wayne County Humane Society)

(Photo courtesy Wayne County Humane Society)

(Photo courtesy Wayne County Humane Society)

(Photo courtesy Wayne County Humane Society)