This is an archived article and the information in the article may be outdated. Please look at the time stamp on the story to see when it was last updated.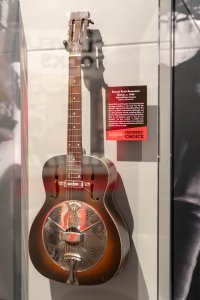 CLEVELAND, Ohio — A new artifact is on exhibit at the Rock and Roll Hall of Fame.
Bonnie Raitt's resonator guitar was chosen via an online member vote, beating out an electric guitar owned by Neil Schon of Journey, an outfit worn by Jon Anderson of YES and an electric guitar used by Josh Klinghoffer's Red Hot Chili Peppers.
According to a release from the Rock Hall, Bonnie Raitt used the guitar for both touring and recording, including on the track "Cry On My Shoulder" from her 1999 album "Nick of Time." The album was Raitt's commercial breakthrough and won three Grammy Awards.
The guitar will remain on display through next year's vote and is featured in the Ahmet Ertegun Main Exhibition Hall, adjacent to the Right Here, Right Now exhibit.
For more, click here.