This is an archived article and the information in the article may be outdated. Please look at the time stamp on the story to see when it was last updated.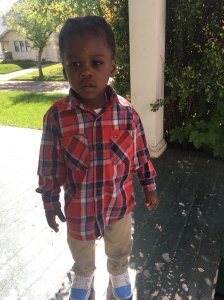 AKRON, Ohio — An Amber Alert has been canceled after a missing one-year-old boy has been found safe.
Akron Police early Wednesday morning issued a statewide Amber Alert for an Akron boy taken from his home.
Police say Darius Heard, Jr. was taken from an apartment on Callis Oval in Akron around 4:30 a.m. Wednesday.
The little boy is 1-year-old. He is two feet tall, weighs 34 pounds, and has black hair and brown eyes. He was last seen wearing a red, white and blue Nautica polo shirt and a diaper.
Police say he was taken "by force" from the apartment by his father, Darius Rashaad Heard, who does not have custody of the boy.
The little boy's grandmother, Sonya Pittman, said the incident all started at around 1 a.m. after an argument.
"I don't think he would actually do anything to him," she said. "But the point is why would you take him with just a pamper and a shirt on? Why would you do that? Why would you that? Why wouldn't you bring him back?"
Heard is 27-years-old, 6'1″, and weighs 195 pounds. He was last seen wearing a black Nike jacket and grey shorts.